All of our websites flow naturally, and are designed to look attractive in small or large screens, in all browsers, and operating systems. By keeping up to date with technology, and embracing open source software we are able to deliver solutions at a more reasonable price.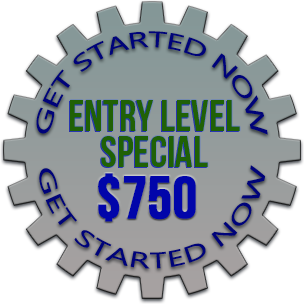 Using WordPress, a free content management system, we can create a website which is very easy to update. We understand there are a lot of ambitious people in this world, and we develop websites for each clients unique needs.
If you're interested in updating your website on your own periodically, we can create special pages on your website which allow easy editing from inside of WordPress. We can show you how to do this in minutes. If you would like we can periodically update your website at a reasonable price.
Before we launch your completed website, we can create social networking accounts for you. Social networking websites are one of the best tools out there to find work, and create a following for your website. We will create a facebook, twitter, and a google plus account upon your request. If you require assistance administrating these accounts we can point you in the proper direction and will be happy to help.
Upon completion, your website will be launched on the web, and any important information regarding your website will be sent to you. Depending on the type of website you have, at this time we will also train you in any way needed.
Call Now
(586) 260 – 0566
Our Process
Learning
In the beginning of the development process we learn as much as possible about what type of website you would like. During this time we'll build a plan for us to follow in developing your website

Any useful information is gathered such as B.B.B. accreditations, certifications, awards etc…

Generally every website will have three pages, a home page, about us, and a contact us page. Any other pages you would like is completely up to you, there is no limit.

During the design and develop stage you will have plenty of time to figure out how many pages you would like, and the content you would like on those pages. Teamwork is key, and we are here for you, and help walk you through the whole experience.

The more information you give us, the faster the development process goes. We will contribute as much content as needed.
Design and Develop
Now that we have discussed what our overall goal is, we now begin creating graphics, and setting up the layout for your website. We like to keep our clients a part of the development process, and show our progress to guarantee that we uphold our satisfaction guarantee.

If you already have a logo, or have something basic in mind then there will be no additional charge. If you require us to design your own unique logo, then we will be more than happy to design it for you at an affordable price. Cost will be determined on the complexity of your logo.

Our basic website packages include custom graphics, any further animations or custom images can be discussed upon during development. During the design process we like to show our clients our progress periodically, we guarantee satisfaction, any changes requested will be taken care of in a timely manner.
Deploy and Test
After we have completed design and development, we then launch your website. At this time you will receive any important information regarding your website. This includes social networking account information, login information, and any other important material that you would need.

We provide 24 hour support 365 days a year for your website. Periodically we will visit your page, and assure that everything is working as it should. Your website will be tested in all the popular browsers, this guarantee's that your website will look attractive and function properly on any computer.

If necessary at this time we will also train you how to maintain your website if required. Most clients don't require their website to be updated often, and do not require any type of training. We are happy to update your website for you at any time for an affordable price.